Jamco's Featured Forklifts
Planning a long-term rental? Customize your Jamco rental forklift!
Jamco is proud to offer custom branding of your company colors and logo on any long-term rental. We understand it is important for your crew to enjoy and take pride in their work, and our hand-painted customized forklifts are an eye-catching way to boost morale— making crew members and employees alike proud to see their own forklift around the facility. It's like having a mascot!
An innovative, exciting way to build corporate brand recognition during your project, our customized forklifts make for fantastic public relations and marketing opportunities as well—images of your forklift can be used for media appearances, as well as on press releases, company newsletters, annual reports, corporate holiday cards, and much more.
To find out more about our customizing options, or renting one of our custom forklifts, contact us!
Easy to spot, fun to use, show your spirit with a Florida Gators' "Gator Nation" Forklift.
When a customer here in Orlando contacted us about a long-term forklift rental, we offered them the chance to customize the forklift to their taste. As huge football fans, their choice was obvious, and our Florida Gators' "Gator Nation" forklift was created. Our customer told us his forklift operators enjoyed using the machine so much on that job that they asked for it again on the next one—and it has been a huge hit on job sites ever since!
Request Rental Info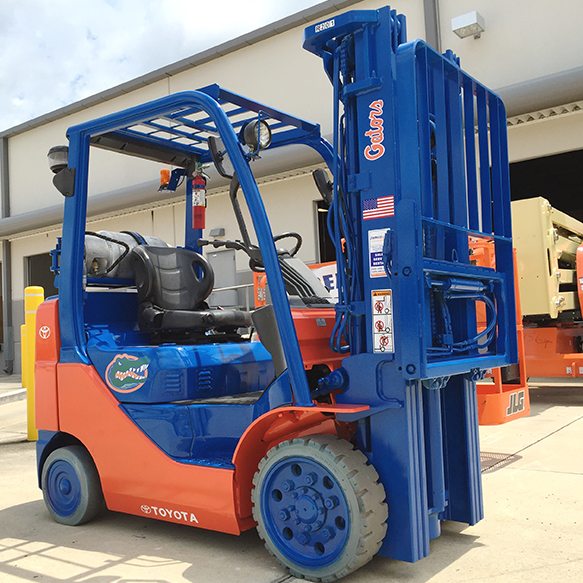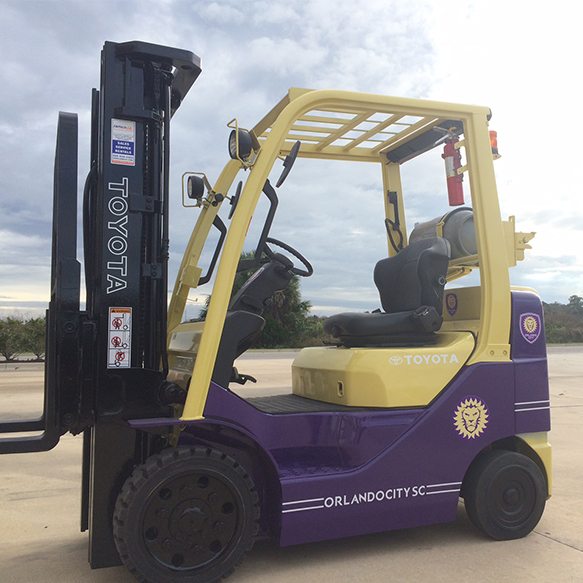 Score a goal with your crew—rent our Orlando City "Purple Pride" Forklift.
You'll spot our hard-working "Purple Pride" Forklift on your job site right away—not just by its vivid purple and gold colors, but by the smiles on your crews' faces, too. We now offer two customized forklifts featuring the Orlando City Soccer Club colors for long-term rentals. They're great for publicity and photo ops, press calls, and other company morale-boosting events, too!
Request Rental Info
Show your support for Breast Cancer Awareness with our "Think Pink" Forklift.
This all-pink forklift definitely turns heads—and makes a very important point. It takes a strong person to fight breast cancer, and Jamco supports everyone involved in that fight. 15% of every "Think Pink" forklift rental is donated by Jamco to Making Strides for Breast Cancer to help them win.
Request Rental Info